Zip Lining in Costa Rica


Zip lining in Costa Rica over the jungle canopy in Arenal is how I choose to bring in a pivotal birthday. I thought for sure my husband would say no. A great way out in case I got cold feet. Much to my surprise, he said yes.
So, getting cold feet was out.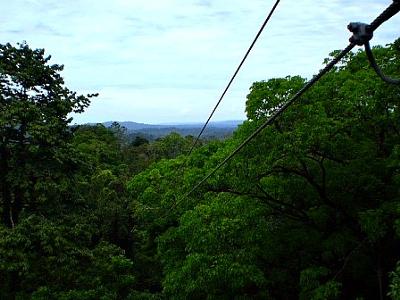 Exciting Costa Rica Activities
We were transported to the launching pad aboard a bus that circles over dirt roads, where the vegetation gets thicker the higher the bus chugs along, making you extremely grateful for clear skies. Once there, you are given an orientation about rules and regulations for safety.

Zip lining seemed like a good idea at the time. Until I realized we were in the middle of the jungle, about to zip over a cliff attached to a cables I prayed would hold.

Employees that looked about twelve years old hitched us up to a complicated system of pulleys and wires. Other daring couples of varying ages were getting attached to their hardware and no one was turning back. I was stuck. Scared was an understatement. Until I realized how professional these people were.


Zip Line Tour Company
Our tour was from a company called Jungle Breeze in Arenal, Costa Rica. They have 12 cables and 13 platforms stretched across the length of the rain forest, arranged at different levels. At every platform there was a smiling employee efficiently stopping us at their respective platform, switching the massive clips from one line to another in split seconds.

They started us off slow with shorter lengths, and towards the end, the distance between platforms increased. These people were courteous and sharp, and knew what they were doing. We learned how to lean back or tuck our knees in, to either slow down or speed up. When the fear subsided and I actually opened my eyes, the view was spectacular.

The next time I will open my eyes from the beginning.


Zip Lining in Costa Rica Information
Zip lining has become one of the most popular activities, not just in Costa Rica, but in various other Central American countries. It is definitely an adrenaline-pumping adventure. It is also a way to get a view of otherwise extremely remote areas.

Arenal is one of the top places for zip lining in Costa Rica. Other popular areas include Manuel Antonio, Quepos and Monteverde. Other areas for this adrenaline adventure can be found in Dominical, Chilamate, Los Planes, Guanacaste, Manzanillo, Turrubares and Puntarenas.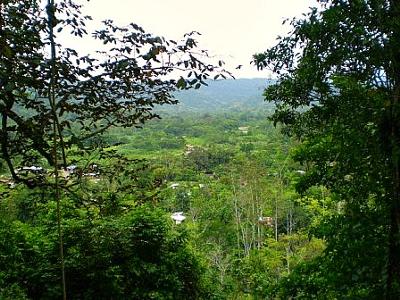 Safety:

You should be issued at minimum, the following safety gear before jumping off your platform: helmet, gloves, harness, knee pads and backup lanyards. In thicker jungle areas, you should also have a face mask and goggles.

Inspect all equipment. You should be provided specific instruction on proper platform landing, especially when you are coming at full speed.

Always listen to your instincts when zip lining. And take your safety seriously.
Return from Zip Lining in Costa Rica to Costa Rica Travel Tips
International Travel Safety Resources & Travel Regulations
Get Help in an Emergency
Here you will find a List of Emergency Services for United States citizens abroad. Resources include death, arrest, victim of crime, sending money, missing citizen, stolen passport and more.

U.S. Customs and Border Protection
CBP announces travel advisories, restricted and prohibited goods, travel publications and more.
USDA Animal & Plant Health Inspection Service
USDA provides information about food, plants, or animal products you can or cannot bring into the U.S. This agency allows submission of import permit applications, ePermits, tracking applications and more.
Return from Zip Lining in Costa Rica to Home
---
"A year from now, you'll wish you had started today."
~B.C. Forbes

© Copyright 2009-2018 Your-Retirement-Paradise.com

---