Backpack Through Europe
On a Budget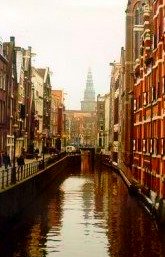 Backpack through Europe and experience the magic of what this special continent has to offer.
From its breathtaking landscape to its enchanting history and culture, you can explore it all on a tight shoestring budget. If you know how.
Backpacking through Europe is not just a youthful rite of passage. It is seeing the impressive coast of Italy with your own eyes. Or enjoying the vibrancy of Paris in person.
It is about taking your life in your own hands and living out your dreams. And for that there is no age limit.


Find out what to pack, how to get around, and what size your backpack should be. Make your adventure an unforgettable one...In a good way.

Things to do in Europe...for Free
Many European sights come with an expensive price tag. And most tourists flock to these spots. They have no idea what is available for almost nothing. Look outside the typical pricey sights when backpacking through Europe. Discover things to do in Europe for free here.

Enjoy the Perks of Becoming a Permanent Tourist
Be open and flexible. Seasoned travelers who backpack through Europe on a regular basis know this well. Sometimes destination opportunities present themselves and you must be willing to take them.



Backpack Through Europe Essentials


A valid passport is your most important document. In Europe, most countries do not require visas if your passport is from the U.S.
Buy a Eurail Pass. This is your best bet for affordable travel abroad. Rail passes give you unlimited travel through 23 different countries.
If buy train tickets as you go, you will spend a lot more. Get a European rail pass before you leave. You can't get one in Europe.
Take your ATM and one credit card. Also take customer service numbers with you in case of loss.
Keep a copy of your ATM card at home with a family member or friend in case you kill the magnetic strip on yours.
Carry as little money as possible when you backpack through Europe. Keep valuables and documents on you inside a money belt.
Europe is relatively safe. Avoid acting like a tourist flashing money around. Stay away from empty dark streets and stick to large groups.

Backpacking through Europe and Wearing a Money Belt
Pickpocketing is alive and well in Europe. Take this European travel tip seriously. These petty thieves target American tourists. They are good at taking what is in your purses, fanny packs, and backpacks in the blink of an eye.
Wear a money belt. Store essentials such as passport, driver's license, credit card, ATM card, money, plane ticket, rail pass, and a list of all your important phone numbers and addresses.


European Travel Resources


Get useful information on getting around in Europe and staying safe. Learn the best method for exchanging currency, withdrawing money, and packing for European travel.
The train system in Europe is exceptionally well organized. It makes international travel through Europe amazingly simple by assuring tourists get oriented quickly. It is important to remember that many cities have more than one train station. Find out how to get around and what train ticket station windows can do for you.
A European rail pass is one of the best ways to backpack through Europe. Rail passes can be a great value when traveling long distances. Especially since Europe is so condensed and easily traveled by train. Find out how a European Rail Pass works and how it can best help you.


Travel Europe by Car

Most of Southern Europe is easily traveled by train and public transit. In more remote areas, especially many spots in Northern Europe, travel by car is a better alternative. You will find certain areas are only accessible by car. And that means less tourists and crowds.

Use simple strategies for traveling affordably like staying at hostels or bed and breakfast inns especially if you backpack through Europe. They are cheaper and very common in Europe and South America. And take advantage of public transportation instead of taking a taxi. Get more affordable international travel tips here.


Packing Tips



You must pack light in order to backpack through Europe. Take only the necessities. Your backpack should be no more than 45 inches in size. This is the maximum allowed on airplanes as a carry-on. You do not want to check your backpack.
Rule of thumb: If it does not fit in your backpack, leave it at home. And that includes your jewelry.
Take a maximum of three changes of clothing. Preferably two. Make sure they are permanent press or similar easily washable fabric. That way you can give them a quick cleaning at night from you bed and breakfast or hostel.
Buy a cheap watch with an alarm and travel book. You want to see where you are going and where you've been.
Forget about buying souvenirs and trinkets. They will only weigh you down. Backpacking through Europe is about making memories.
Remember to pack your journal and digital camera. Document what you see. That way you can enjoy those experiences all over again back home.
Become a permanent tourist and transform your passion for traveling into a new career. Others do it all the time and get paid to travel over and over again.



Backpacking Through Europe Travel Safety


International Travel Safety Resources
Get Help in an Emergency
Here you will find a List of Emergency Services for United States citizens abroad. Resources include death, arrest, victim of crime, sending money, missing citizen, stolen passport and more.
Embassy Registration for Americans Abroad
The Smart Traveler Enrollment Program (STEP) is a free service provided by the U.S. Government to U.S. citizens who are traveling to, or living in, a foreign country. This service allows you to enter information about your upcoming trip abroad so that the Department of State can better assist you in an emergency.

International Travel Regulations
U.S. Customs and Border Protection
CBP announces travel advisories, restricted and prohibited goods, travel publications and more.

USDA Animal & Plant Health Inspection Service
Agency provides information about bringing food, plants, or animal products into the U.S. and which ones are prohibited. USDA also provides ePermits, which allows submission of import permit applications, tracking applications and more.


Cheap Accommodations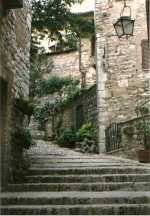 Stay at a bed and breakfast or hostel instead of a hotel. Both are common in Europe and way more affordable.
Most come with free internet access...Your gateway of communicating with family and friends back home for free.
Hostels are normally located near public transportation. They are usually safe and most provide lockers to store valuables. So include a lock in your backpack.

Affordable Alternatives
Europe is a kaleidoscope of breathtaking spots. Every country has its own grandeur.
Stay away from the expensive museums and stroll through marketplaces and plazas. The most memorable sights usually involve no admission charge. Walk or rent a bike. You will learn more about the real Europe and save a lot of money.
Getting tips to travel cheaply is a must if you want to backpack through Europe affordably. Cheap travel abroad has nothing to do with inferior conditions. It's about getting more for you money, like low-cost airfare and affordable meals.
That way you can turn around and do it again.

Return to Finding Your Passion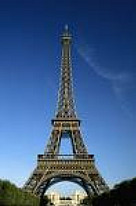 Grab your passport and get ready to backpack through Europe. Make your own memories. It is not just for the younger crowd.
Stay away from the typical touristy spots. The most unforgettable sights usually involve no admission charge.
Get to know a continent so rich in history you'll want to return again and again.
With strategies that make backpacking through Europe an unforgettable and affordable experience, you can.

Return to Home from Backpack Through Europe
---
"A year from now, you'll wish you had started today."
~B.C. Forbes

© Copyright 2009-2018 Your-Retirement-Paradise.com

---