Retire in Chile
and Live the Good Life for Less


Retire in Chile and discover a magical place full of contrasts...
From a Mediterranean temperature in the central region to a cooler resort-style living in the South.
Overseas retirement in Chile is synonymous with the best beaches and ski resorts in the World. Not to mention some of the best wines. All at a fraction of the cost.


The seasons here are opposite to those in Europe or North America. Winter season in Chile runs from May until August. And the summer is from November to March. If you want to escape the cold, head to the north.


Strategies For Retiring Overseas
Take extra passport pictures along before you retire in Chile for border crossings. Essential

overseas retirement tips

include setting up online accounts. Be prepared before retiring overseas. Make your transition a smooth one.
Use these simple strategies for

cheap travel abroad

like staying at hostels instead of hotels. And opt for public transportation instead of taking a taxi whenever possible.
When living or retiring in a foreign country, the amount you actually

pay in taxes

will depend on your circumstances and where you retire. Avoid unexpected surprises by finding out what costs are involved first.


Cost of Living in Chile
Utilities and Monthly Expenses
Rent is about $300 for a one-bedroom apartment in Santiago. Electricity for two is approximately $60 a month. Water is less than $30. And maid service can be found for under $230 a month.
Rent and Cost of Meals
Groceries cost less than $50 a week for two. Eating out is affordable at $3.00 for breakfast per person, $5.00-$7.00 for lunch, and about $10 for a good dinner.
Fresh fish is incredibly affordable at about $1.00 a pound. And two pounds of chicken is less than $2.00.
Getting Around in Chile
A ride on the metro is $0.75. A taxi is under $2.00. And a long distance bus ride is under $15.00. Unlike many neighboring countries, you are allowed to import up to $5,000 worth of belongings.



The Best Places to Retire in Chile
The best places for warm retirement paradise in Chile are located in the north. Serena is one of the best retirement locations in Chile. Although there are many other ideal retirement spots as you can see below...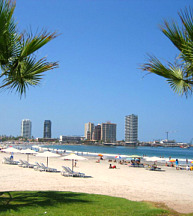 La Serena
La Serena is a feast for the eyes, being Chile's second oldest city.
Nestled at the end of the Elqui Valley, La Serena is home to Chile's most popular beaches. There are miles of white sandy shores, anchored with restaurants and apartments.

Travel into the hilly outskirts for great deals on large homes in gated communities.



Iquique
If you are thinking of retiring in Chile, Iquique may be a good fit. Located in the northernmost region, Iquique has a mild climate and is home to natural and archaeological jewels. Here you will have access to a great many outdoor activities.
Lake District of Chile
The south is colder, wedged beside lovely mountains and lakes. Retire in Pucón and discover a charming resort community in the Lakes District of Chile. Tucked around Lake Villarrica, Pucón has a breathtaking view of the mountains. This area of Chile is similar to Lake Tahoe of earlier years before the tourists took over.
Las Condes
Las Condes is the place to retire in Chile for upscale living. Located in Santiago it is clean, modern and quiet. The streets are lined with bistros and cafés. And the new underground metro will take you to the center of the city in minutes.
Valparaiso
Another spot for retirement paradise is the seaport of Valparaiso. This waterfront town is anchored among hills and a dazzling bay. Along the shoreline is where a flourishing commercial district is located. Here you are guaranteed to find whatever it is you're looking for.



Establishing Residency


There are various residency options to choose from if you retire in Chile. These options include Tourist Visas, Retirement and Income Visas, Work Visas and Business & Investment Visas.
Each carries varying degrees of requirements. To apply for a permanent visa, you must reside in Chile for a year.
The simplest avenues with the most benefits are to start off with a Tourist Visa and then move on to a Retirement Visa. Research all possible overseas residency options residency options before making a decision on where to retire.
Tourist Visa in Chile
A Tourist Visa is a temporary visa good for three months before it must be renewed. Stick with a Tourist Visa if you only plan to live in Chile for a few months out of the year. You can even purchase property with a Chilean Tourist Visa. A Tourist Visa here can be renewed indefinitely.
Retirement Visa
A Retirement Visa usually takes about three months, depending on your situation. You must prove a source of income to support yourself such as a pension, social security, or similar income source. Rule of thumb is usually about $1000 per person.
Health Care in Chile
If you are retiring abroad, health care overseas is probably at the top of your list. Not to worry though. Medical care in Chile is first rate. It is comparable to Europe and the United States.
You will find that most physicians speak English in Chile. And all of your medications are readily available here.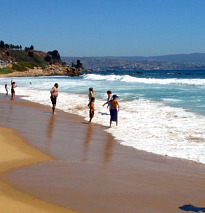 Return to Cheap Places to Retire
Retiring in Chile means living a higher quality of life for less.
If you are searching for an amazing retirement spot with breathtaking scenery and warm people, then pack your bags and retire in Chile.
You will discover the sheer beauty of this country is everywhere you look.
Return to Home from Retire in Chile
---
"A year from now, you'll wish you had started today."
~B.C. Forbes

© Copyright 2009-2018 Your-Retirement-Paradise.com

---