San Lorenzo Panama


San Lorenzo Panama Fort is not only a lesson in history but candy for the eyes. To get there, you must pass the Panama Canal (another location worth seeing).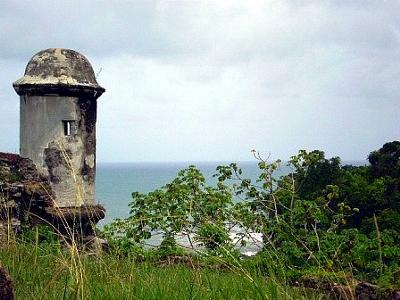 The remains of this Spanish fortress is located inside a National Park and you are treated to a fifteen minute drive through a forest teeming with wildlife. We spotted Capuchin monkeys and howler monkeys, toucans and wild parrots, all making their riotous sounds.

The Fort in San Lorenzo Panama was built atop a cliff overlooking the Chagres River and the Caribbean. The view is nothing short of spectacular. If you can tear yourself away and close your eyes, you can almost smell the gunpowder as mounds of pirates attempt to take over the fort in the 16th and 17th centuries.
It was, after all, an important location on the coast. And everyone wanted a piece of it. Spanish, English and pirates alike. Stroll across the mote and stand inside the shady dungeon. It is an eerie feeling.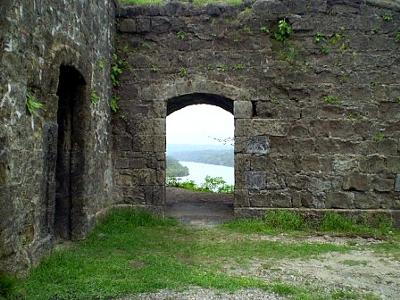 Still, the view of river and ocean is something to behold and therefore, my favorite part. Take plenty of pictures. And don't forget your lunch and plenty of water. There are no restaurants or eateries along the way. So if you are wondering what to do in Panama, make sure to visit this amazing place. You will be glad you did.

Of all the Panama activities, this one is definitely geared for history buffs.
King Phillip II ordered the fortress to be built in the late 16th century. Located on the Chagres River, the fort commands a view of the mouth of the river and miles out to sea.


San Lorenzo Fort Origins
It was constructed in an effort to protect the coast from looting buccaneers, as the river was constantly used for commerce and slave ships. Pirates like Henry Morgan and Francis Drake traipsed these lands, pillaging and burning everywhere they went.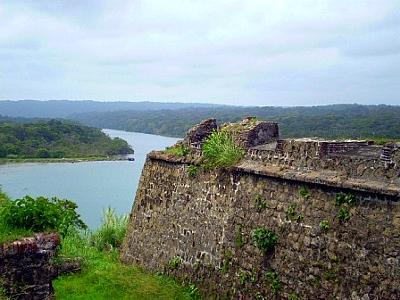 Originally built of wood, it deteriorated and was burned by Francis Drake. It was rebuilt and then bombarded by Sir Edward Vernon, a British Admiral, who destroyed the castle and plundered the buildings. What stands now is the remains of a rebuilding effort in 1761.

The road to the fort is paved and smooth. Make sure you take the exit to Gatun Locks. Take advantage and see the huge boats as they pass through the locks.

Exploring Fort San Lorenzo, one can only imagine how many lives were affected by this incredible piece of history.
Return from San Lorenzo Panama to Panama Travel Tips


International Travel Safety Resources & Regulations
Get Help in an Emergency
Here you will find a List of Emergency Services for United States citizens abroad. Resources include death, arrest, victim of crime, sending money, missing citizen, stolen passport and more.
USDA Animal & Plant Health Inspection Service
USDA provides information about food, plants, or animal products you can or cannot bring into the U.S. This agency allows submission of import permit applications, ePermits, tracking applications and more.
Return from San Lorenzo Panama to Home
---
"A year from now, you'll wish you had started today."
~B.C. Forbes

© Copyright 2009-2018 Your-Retirement-Paradise.com

---