Climate in Italy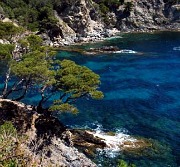 The climate in Italy is a dream come true for travelers and retirees alike.
Sunlight graces most parts of the country nearly 300 days a year.
Winters are mild and summers are temperate, making the decision to live or retire in Italy a healthy one.


Italian weather makes for the perfect place to live. Due to the high amount of sunshine and normally mild seasons, living in Italy is a great alternative to countries with typically frigid temperatures. Health-wise, it is a better choice.


Retire in Italy
Would you retire in Italy? Can you imagine living in the land of olive groves and terracota roofs? Life in Italy is not as expensive as you may think. By searching in smaller towns and cities, you will discover affordable living arrangements within a short train ride to most metropolitan areas. Learn more about retiring in Italy here.

Regions of Italy
Italy is made up of 20 regions--From the cooler areas of the Po Valley in the north to the sultry Mediterranean spots of the south. Discover all Italian Regions here.
Italian Weather
You will find the Italian climate to be extremely pleasant. It is highly unlikely you will experience drastic temperature fluctuations anywhere.
The Italian Alps in the north are similar to those in Switzerland and Austria, offering fantastic opportunities for skiing.
The mountainous region of Northern Italy is simply breathtaking and conducive to all sorts of winter activities. Many business owners in the warmest Italian Regions close up shop and head north during the winter months for some fun in the snow.
The climate in Central Italy is very Mediterranean. There is a small amount of rainfall during the summer along with short winters.
Head to the South of Italy for the hottest temperatures. And even there you will discover ocean breezes offer ongoing cooling relief.

European Travel Tips
Get useful information on getting around in Europe and staying safe. Find out how to keep your money in your pocket and not in the pockets of others. Learn the best method for exchanging currency, withdrawing money, and packing for European travel.



Typical Climate in Italy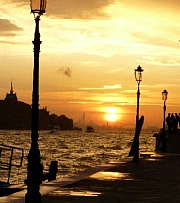 Italy is geographically divided into three glorious regions...
North, Central and South.
Climate in Northern Italy
Northern Italy is home to Venice, Milan and Turin. These are just some of the main cities in this region.
In the ancient floating city of Venice, December and January are the coldest months.


Average Temperatures in Venice
The Climate in Venice during the winter ranges from 8°C/46°F for a high to 4°C/39° F for a low.
Summer months warm up to 27°C/81°F for a high, and 19°C/67°F for a low. Still, even in this area, the Italian weather is still mild. Still, you will discover higher incidences of rainful in the north when compared to Tuscany and Umbria located in central Italy.

Italian Festivals
Italian Festivals are as varied as the landscape. Watch testosterone-induced combatants donned in period costume in Florence as well as the tender religious holidays of Pasqua in Sicily. It is a good idea to research what the climate in Italy will be like before heading to these festivals.
Climate in Central Italy
Central Italy is home to Tuscany, Umbria, and of course, the capital city of Rome. Florence is situated in Tuscany, as is Sienna and Arezzo.
The climate in central Italy is typical of Mediterranean perfection. The hottest months are found in July and August.
Maximum average temperatures during the summer will normally not rise above 30°C/86°F.
Minimum temperatures usually remain at or above 10°C/50°F. The climate in Central Italy can vary a few degrees up or down due to the vastness of this region.
There is very little rainfall in the summer. The climate in Italy during spring and autumn tends to be sunny and mild.
Winters are typically short and dry in the central region of Italy. And although it can snow, the sun is warm enough to melt it away and produce mild spring-like days.
Please remember the temperature can get a bit cold at night. And thunderstorms are not uncommon during the winter in Italy.

Travel by European Rail Pass
A European rail pass is one of the best ways to travel through Europe. They can be a great value if you know your options. Especially since Europe is so condensed and easily traveled by train. Find out how a European Rail Pass works and how it can best help you.
Climate in Southern Italy
Southern Italy is home to Naples and Sicily, to name a few. And the weather here is typical of the deep Mediterranean.
Summer in southern Italy is usually dry and warm. Ocean breezes provide a cooling effect during this time of year.
In January and February, average temperatures in Sicily range from 12°C/54°F for a high and 8°C/47°F for a low.
Summer in Sicily only rises to 30°C/86°F for a high and then lowers to 17°C/62°F for a low.

Public Holidays in Italy
Public Holidays in Italy are enthusiastically celebrated throughout the country. It is an essential part of living in Italy. Many businesses close during the festivities. Find out the dates of public holidays here to avoid an unwanted surprise.
Climate in Italy and Travel
Before heading out to The Land of Renaissance, determine what season and region you will be visiting. Although Italian weather is normally mild, it is important to be prepared with proper clothing when traveling.

Ask yourself what you really want to see in Italy. What do you wish to experience? Is the snow-capped mountains of the Andes what you crave or the endless flowering hills of Tuscany?
Perhaps the enchanting island of Capri set against the bluest of water is what you hunger for.
Make sure to check local temperatures for the time frame you plan to go. And remember to dress accordingly. Although it is unlikely you will experience drastic temperature variations with the climate in Italy, pack a warm jacket and comfortable shoes wherever you go. Being prepared is a sure way of enjoying your time in Italy.

How to Travel Europe by Train
The train system in Europe is exceptionally well organized. It makes international travel through Europe amazingly simple by assuring tourists get oriented quickly. It is important to remember that many cities have more than one train station. Find out how to get around and what train ticket station windows can do for you.

When to Travel Europe by Car
Most popular cities are easily navigated via buses and trains. The more remote and picturesque towns are not so easy to get to. For these special spots, you are going to need a car.

The best times to travel to Italy are in the spring (April), or during the late autumn months (October).
There are fewer tourists and therefore fewer crowds. You will discover the climate in Italy to be refreshingly near perfect.



Return to Home from Climate in Italy


---
"A year from now, you'll wish you had started today."
~B.C. Forbes

© Copyright 2009-2018 Your-Retirement-Paradise.com

---