Regions of Italy


The regions of Italy are composed of 20 areas. The cooler areas of the Po Valley are located in Northern Italy. The mild seasons of the Tyrrhenian Sea are situated off the western coast.
The sultry Mediterranean spots of Sicily and Calabria are located in the south. Here, abundant sunshine and mild winters are the norm.
See map of Italy below for Italian regions and capital cities.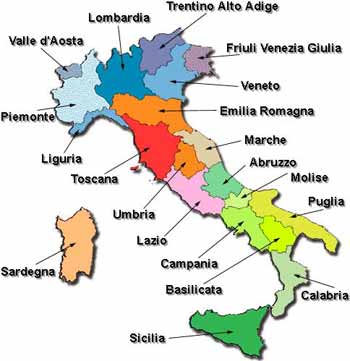 Discover how the culture of Italy influences life in Italy.

Find out where Italians gather and live La Dolce Vita.

Here in the land of majestic art and geography is where Romans, Greeks, Spaniards and Greeks have all left their mark.




Climate in Italy
The climate in Italy is a dream come true for travelers and retirees alike. Sunlight graces most parts of the country nearly 300 days a year. Winters are mild and summers are temperate, making the decision to live or retire in Italy a healthy one. Learn more about the climate in different parts of Italy here.

Public Holidays in Italy
Be aware that many businesses close during public holidays in Italy. These holidays are an essential part of living "La Dolce Vita" and entusiastically celebrated throughout regions of Italy. Check specific dates when planning your trip.
EUROPEAN TRAVEL RESOURCES

Travel Europe by Train
The train system in Europe is exceptionally well organized. It makes international travel through Europe amazingly simple by assuring tourists get oriented quickly. It is important to remember that many cities have more than one train station. Find out how to get around and what train ticket station windows can do for you.

European Tips for Travel
Get useful information about European travel tips for getting around and staying safe. Learn the best method for exchanging currency, withdrawing money, and packing for European travel.

When to use a European Rail Pass
A European Rail Pass is a great value if you are visiting several spots. And that includes most regions of Italy. Know your options before purchasing one. Find out how a European Rail Pass works and how it can best help you.

Affordable Travel
Affordable cheap travel is about using smart techniques to get more for your money. Seasoned travelers know these methods well. Use simple strategies for cheap travel abroad such as staying at hostels or bed and breakfast inns. They are cheaper and easily found in Europe and South America.

When to Travel Europe by Car
Most popular cities are easily navigated via buses and trains. The more remote and picturesque towns are not so easy to get to. For these special spots, you are going to need a car.
Check with European Travel Information for essentials on experiencing Europe by car.

Northern Regions of Italy


| | |
| --- | --- |
| AREA | CAPITAL |
| Emilia Romagna | Bologna |
| Friuli Venezia Giulia | Trieste |
| Liguria | Genoa |
| Lombardia (Lombardy) | Milan |
| Piemonte (Piedmont) | Turin |
| Trentino Alto Adige | Trento |
| Veneto | Venice |
| Valle d'Aosta (Aosta Valley) | Aosta |
Culture of Northern Italy
Northern Italy is the wealthiest region of the country. Here you will experience extravagance of Milan. This Italian city is one of the three most important fashion capitals on earth. It is here where the fashion trends that the rest of the world follows are determined.

Italian Festivals
Italian Festivals are as varied as the landscape. Watch testosterone-induced combatants donned in period costume in Florence as well as the tender religious holidays of Pasqua in Sicily. Find out which dates you want to enjoy (or avoid) here.

Things to do in Europe for Free
Many things to do in Europe come with an expensive price tag. And most tourists flock to these spots. They have no idea what is available for almost nothing. Look outside the typical pricey sights. Find out what you can do in Europe for free here.

Backpack through Europe
Backpacking is one of the most rewarding and affordable ways to make your own memories. Be open and flexible. Seasoned travelers who backpack through Europe and all regions of Italy on a regular basis know this well. Sometimes destination opportunities present themselves and you must be willing to take them.
Central Regions of Italy


| | |
| --- | --- |
| AREA | CAPITAL |
| Lazio | Rome |
| Le Marche (Marches) | Ancona |
| Toscana (Tuscany) | Florence |
| Umbria | Perugia |
Culture of Central Italy
Central Italy is home to Florence and Rome. Oozing with culture, here you will discover some of the most significant works of art known to man. This Renaissance region also includes miles of vinyards and sunflowers nestled in Tuscany.

The Importance of Wearing a Money Belt
Pickpocketing is alive and well in Europe. These petty thieves target American tourists. They are good at taking what is in your purses and fanny packs in the blink of an eye.
Wear a money belt when traveling. Store essentials such as passport, driver's license, credit card, ATM card, money in large denomination, plane ticket, rail pass, and a list of all your important phone numbers and addresses.

The Permanent Tourist
Taste what other shores have to offer and write about it. It's an exciting way to avoid becoming a permanent resident while making money. Learn how you can accomplish this here.

Retire in Italy
Would you retire in Italy? Can you imagine living in the land of olive groves and terracota roofs? It is not as difficult as you think. By searching in smaller towns and cities, you will discover affordable living arrangements within a short train ride to most metropolitan areas. Find out more about retiring in Italy here.
Southern Regions of Italy


| | |
| --- | --- |
| AREA | CAPITAL |
| Abruzzo | L'Aquila |
| Basilicata | Potenza |
| Calabria | Catanzaro |
| Campania | Naples |
| Molise | Campobasso |
| Puglia (Apulia) | Bari |
| Sardegna (Sardinia) | Cagliari |
| Sicilia (Sicily) | Palermo |
Culture of Southern Italy
Southern Italy is home to a myriad of culture. Experience Italy's Spanish and Greek influence, as well as its Norman, Arab and Roman influences. Here you will get a peek of what life was like through the ruins of Pompeii.
And of course, the villages hugging the cliffs of the spectacular Amalfi coast are not to be missed.



The beauty and landscape of this country is comparable to no other.
Awash in abundant sunshine and culture, quaint villages and elegant villas...
...Life in Italy is a feast for the eyes as well as the soul.

Return to Home from Regions of Italy
---
"A year from now, you'll wish you had started today."
~B.C. Forbes

© Copyright 2009-2018 Your-Retirement-Paradise.com

---