What to do in Belize?

What to do in Belize is a question many travelers want to know before heading out there. Where are best places in Belize located? What do you consider to be Top Things to Do in Belize?
Is it scuba diving or snorkeling along the barrier reef? Swimming with sting rays? Caving? Hiking to the top of Victoria Peak? Or is it climbing the plentiful Mayan sites?
It is all to be found here under dazzling blue skies.
Heck, you may want to kick back and stay forever.  We even give you tips on how to retire in Belize!


Snorkeling and scuba diving off Ambergris Caye
The best scuba diving to be found is along the barrier reef. Plenty of boats are waiting to take you out.
It takes a little bit to get out there but it is well worth it. Most captains will take you to more than one dive site, although the barrier reef is by far the most exciting.

Barrier Reef in Belize
The Belize Barrier Reef is roughly 300 meters or 980 feet offshore, from Ambergris Caye. It is the longest barrier reef in the Western Hemisphere and second only to the Great Barrier Reef in Australia.
Still wondering what to do in Belize? Or what paperwork will get you there? Read on for more...

Visiting Belize
Do  you need a visa to go here? How about a Tourist card?
It all depends on where you are coming from? Are you traveling from the United States? New Zealand? Panama?
Visiting Belize is an experience so be prepared. Here you will find information on everything from currency and fees, to recommendations for extended stays. It is the place to research the specifics of what you should know before heading there.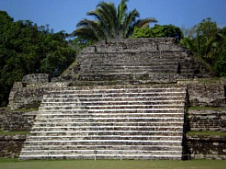 Altun Ha Archeological Site
Altun Ha is an incredible Mayan archeological site, about 30 miles north of Belize City.
It is not the easiest place to get to but well worth the challenge.
There is no public transportation although there are a few tour operators willing to drive you there.
These Mayan ruins in Belize are one of the singularly most amazing places in this small country to experience.
One would never think to find this treasure among an island of crystal blue waters and phenomenal diving.
---

Check with our Trip Planner for vital travel tips and recommendations to make your journey more enjoyable and smooth.


How to Retire in Belize without Breaking the Bank 
You can afford and enjoy a quality of life in this scrumptuous place--From year-round balmy weather to a stunning barrier reef. You can even import your car and everything else...TAX FREE!

Retire Overseas and Discover Affordable Paradise
Is your dream to retire overseas? And wake up to warm tropical breezes in the morning? Or is your vision of retirement bliss gazing at miles of vineyards and sunflowers? It's simpler than you think. And a lot easier on your wallet. Find out more tips here on how to retire overseas on a budget.

Overseas Retirement Tips
Be prepared before you go. Little things like stocking up on medications and emailing important documents to yourself could mean the difference between retirement paradise and a retirement nightmare. Before heading out, review these retirement tips to avoid headaches.
Return from What to do in Belize to Paradise Travel

International Travel Tips & Regulations
Emergency and Crisis Services
This government agency provides a List of Emergency Services for United States citizens abroad. Resources include death, arrest, victim of crime, sending money, missing citizen, stolen passport and more.
Embassy Registration for Americans Abroad
The Smart Traveler Enrollment Program (STEP) is a free service provided by the U.S. Government to U.S. citizens who are traveling to, or living in, a foreign country. This service allows you to enter information about your upcoming trip abroad so that the Department of State can better assist you in an emergency.
USDA Animal & Plant Health Inspection Service
Agency provides information about bringing food, plants, or animal products into the U.S. and which ones are prohibited. USDA also provides ePermits, which allows submission of import permit applications, tracking applications and more.
Return from What to do in Belize to Home
---
"A year from now, you'll wish you had started today."
~B.C. Forbes

© Copyright 2009-2018 Your-Retirement-Paradise.com

---